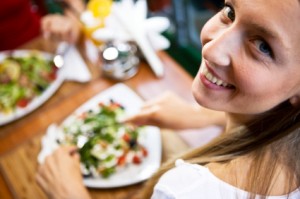 The Katie Behind KatieT's!
You just can't deny it. A meal that tastes like something you would prepare at home is far better than something that's sat in the freezer for a week. There are plenty of pizza restaurants and other food joints that focus on their profits instead of the customer. Here at KatieT's, we aren't fast food. We aren't a large commercial restaurant chain. That means we get to make our decisions right here, not at some fancy headquarters half way around the world.
Katie grew up in Oklahoma, where her father prided himself in creating the best pizza around. No. He didn't own a pizza restaurant. This was his passion and he built his very own wood fire pizza oven. Katie grew up enjoying amazing pizza her father would make from ingredients on the farm and neighboring farmers. There was just no comparison between her dad's pizza and any pizza you could get from a restaurant.
They were far from rich and when the farm started to struggle, Katie brought it to her dad's attention that maybe he should start a pizza restaurant. He could never get the capital, although he thought it was a pretty good idea. So when Katie was older, she walked away from her corporate identity to open the perfect pizza restaurant with some of her dad's recipes, methods and ideas. KatieT was born!
We truly hope that you enjoy your stay with us. The food. The family. The people. The atmosphere. If we fall short in any area whatsoever, we want to know about it! So please don't hesitate to get in touch. If you'd like to have a private party or have any other special request, simply let us know and we'll do our best to work with you & make it happen.